I would say jeans are probably the fashion piece, that comes in the most different varieties.
From wide-leg to skinny, from acid wash to stonewashed from dark blue to light blue you can get as many different jeans styles as the selection in the donut store you trust.
And even if there are so many fancy denim designs out there, today we gonna look at the most iconic one: the plain dark blue denim.
This style is kind of the bedrock of jeans pants.
Therefore we deep dive straight into the question:
Which Color looks best with dark blue jeans?
Colors That Look Best with Dark Blue Jeans
Dark blue is a very versatile color and there are many colors that can be worn with dark blue types of denim. One of the best colors is white, off-white, cognac, brown, and black. If you like to spice up your outfit, choose a bold colored shirt such as pink, red, green, or mustard yellow.
Many Colors Look Beautiful with Dark Blue Denims
There are many colors you can wear with dark blue denim, and in the end, it comes down to personal preferences.
However, some color combinations are simply stunning, and a safe way to go.
I will divide the best colors to wear with dark blue jeans into two categories: earthy, natural tones, and vibrant colors.
Earthy Tones to wear with Dark Blue
Chocolate Brown
Dark brown and dark blue was a no-go to wear together.
But to be honest, blue and brown are a beautiful combination.
Also remember, that not only the color matters when deciding if you want to combine specific colors but also the fabric.
The rustic denim stands in enough contrast to a nice silk or cotton top.
If you are unsure about just wearing those two colors, add a white shirt and a dark brown blazer.
The white shirt will enhance the contrast, and the overall combination will look calmer to the eye.
A brave combination, that works depending on the brown tone, is a mid-brown top, dark blue jeans, and black shoes.
Add a black bag as well, so that the shoes are framed and it looks more intended.
Beige
Beige is the perfect color for all women, who don't want to wear dark brown but still have this earthy touch to the outfit.
It pairs well with blue, giving a slightly deeper contrast than brown, without being as powerful as white.
Beige is not always suitable for every skin tone.
So check the saturation of the beige against your skin.
In general beige suits women with a spring tone.
Meaning you have a warm skin tone and honey blond to medium brown hair.
Off-White or Eggshell-White
So this is a white tone that has a yellowish hue and it is slightly darker than plain white.
It is brighter than beige so it is suitable for all skin types.
For your dark blue denim, you can choose to wear eggshell as a top alone or to create a contrast and combine a third color with it such as olive green or brown.
Black
Black is another color that, following the old books you can not wear with dark blue.
But, throw the old book, you can wear black and dark blue denims.
You can not just wear it, but excel in it with the right accessories.
This will be an elegant look with class.
One of my favorite looks is my dark blue loose-fitting jeans, a black top, and a black blazer.
I am wearing my black leather loafers with it.
To create an attractive outfit, I add some gold jewelry.
I always find that black and dark blue is such a sophisticated mature combination and I love playing with these two colors.
As usual, if you find your outfit too boring or just that it does not work: add a white shirt, to create depth and contrast.
Vibrant Colors with Dark Blue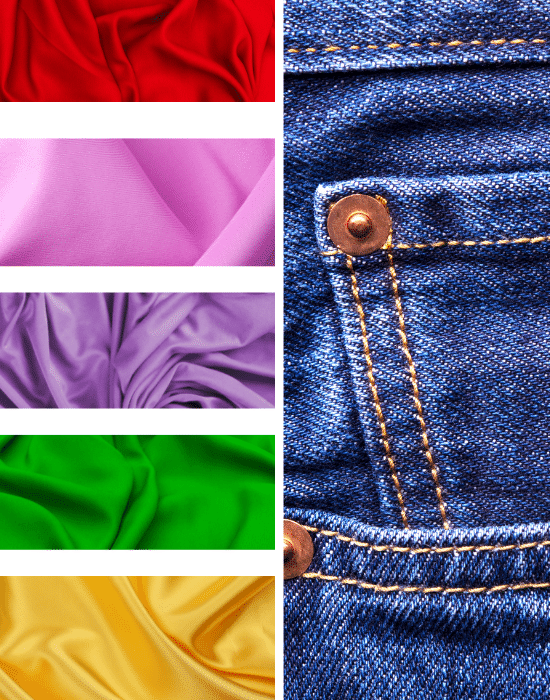 Red
No question about it, red and blue is a vibrant combination that let heads turn.
The colors are among the primary colors on the color wheel.
The combination of dark blue jeans and a red blazer with a white blouse is one of my favorite outfits.
The red gives a pop of color but is still suitable for a business meeting.
Pink
A dark color such as dark blue helps the pink to glow even more.
It is a bold color and one of the trend colors for 2022.
You can wrap up this look with a blush or caramel-colored bag and shoes.
Purple & Violette
When it comes to color combinations, it is always helpful to have the color wheel in mind.
This guarantees that the colors you are about to wear together match.
Purple and blue are analogous colors so no wonder those colors match perfectly.
Coming from the same color family, purple and blue gives a sophisticated outfit combination without being too bold.
Green
Green is the other analogous color to blue.
Personally, I struggled with green, or at least with bolder green tones such as lime green.
But in the end, I feel that I just didn't know how to pull an outfit together with green.
So I tried a few combinations, but the one with dark blue jeans was my favorite one.
So in this case a green blazer that I teamed up with a white blue striped shirt and dark blue jeans.
Mustard Yellow
The combination of blue and yellow is in many company logos.
That might be because blue is associated with trust and reliability, but also because blue and yellow are a catchy combination.
Dark blue complements yellow and helps the yellow to shine even more.
Mustard yellow is a darker yellow, so it won't create as much contrast and the whole outfit will appear more settled.
However, you can obviously also choose a brighter yellow to pair with your dark blue jeans.
Frequently Asked Questions about Blue Jeans
Can I wear dark blue jeans for a business meeting?
Among all jeans, dark blue is probably the most suitable for a business meeting. However, make sure you wear a blazer and neutral colors with your blue jeans. Also don't pair your jeans with sneakers, instead wear loafers or heels. You want to maintain the business attire, so stay away from bold colors.
Can I wear dark blue with light blue denim?
The all denim look is something that pops up from time to time. You can create an all denim look, however, when you're putting the jeans pieces together, pay attention to the tones. The parts should be a maximum of one tone lighter or darker. For example, a medium blue denim shirt with dark denim pants.
Conclusion
The basic jeans of them all bring so much joy to your closed since you can style them to almost everything.
It is a versatile piece of clothing and if you want to style it elegant choose a blazer, or style it rocky with a leather jacket.