Pallazo pants are very flattering for women of all sizes.
This style of pants is especially popular in the summer and spring months.
What makes these pants so versatile is the fact that they come in a variety of colors and patterns that you can use to pair these wide-legged pants with the right color/style top.
What Top to Wear with Palazzo Trousers?
The possibilities are endless. Palazzo pants can be paired with almost any top. From sleeveless tops, camis, off-the-shoulder tops, and halter top to crop tops, tank tops, t-shirts, and turtlenecks. It is important that you match the color of the top with the pants. To do this, you can use the patterns of the pants as a guide or use a solid color technique such as monochromatic.
What is a Palazzo Trouser?
Palazzo trousers are not the same as wide-leg trousers.
A wide-leg trouser usually has a straight fit cut, so it falls loose along the leg.
A palazzo trouser is much wider and can even appear like a skirt.
Also, the fabric is different.
Plazzo trousers come in light colorful garments as they are usually worn during summer.
Straight-cut pants are an all-year-round piece and can also come in wool blend fabrics.
What Top to Wear with Palazzo Trousers?
Where to start with this wardrobe staple? Palazzo pants actually come in a range of styles, from casual to more formal.
The right top can upgrade or downgrade the entire outfit.
Short, Shortest, Crop Top
For younger generations, the crop top seems to be a wardrobe staple, and for good reason.
Now, these tops can also be paired with palazzo pants.

These types of tops can also be worn by older women, with the rule being that very little, if any, of the waistline should show. The hem of the shirt should preferably kiss the top of the pants.

And, this look is also great to emphasize the shoulders and collarbone.
Elegant and Noble: Cami Tops
Cami tops also come in a variety of fabrics.
Derived from the word camisole this type of top is a lightweight shirt often adorned with lace.
The difference to the tank top is mainly the fabric and the straps. Tank tops can have thicker straps while camisole tops have spaghetti straps.
You can show off your shoulders and collarbones with these tops.
Cami tops fall under the category of minimalism and are easy to wear.
Especially in combination with palazzo trousers, they are a good choice as they create a nice contrast between the extremely wide trousers and the top.
Cami tops are loos but not as tight as a tank top.

Tuck the cami into palazzo pants and pair it with dainty strappy sandals for a summer look.
In the cooler months, a cami can be worn under outerwear.
Off The Shoulder Tops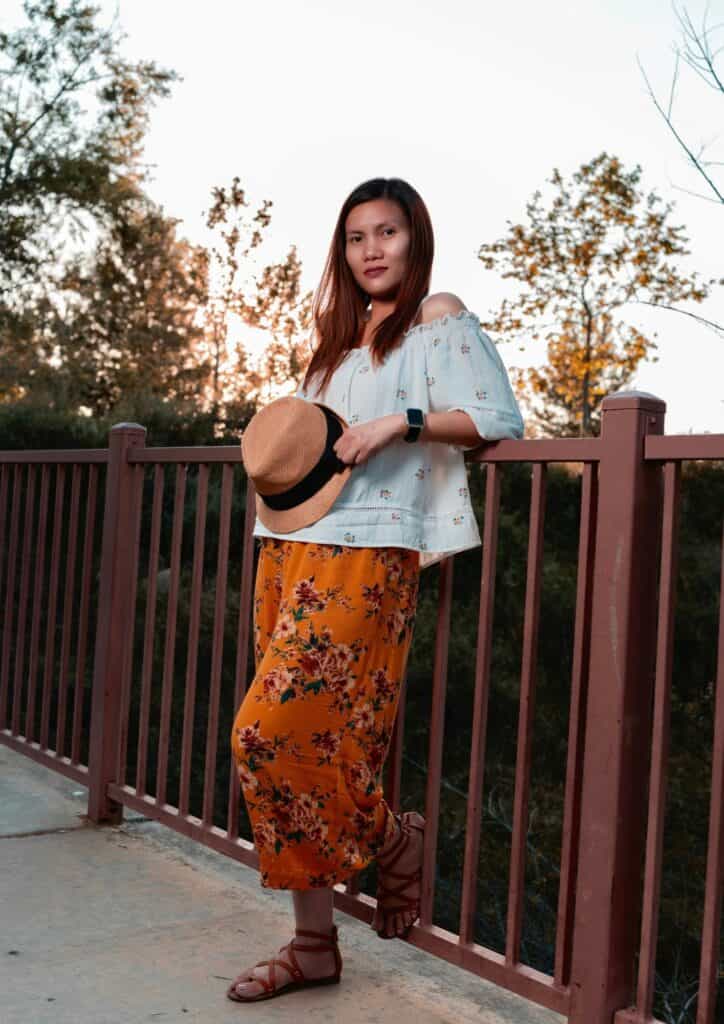 Nothing screams elegance like an off-the-shoulder top.
Plus, this type of top flatters all women, regardless of their body type.
Women who have a pare-shaped physique benefit the most from this top.

Pair an ice white off-shoulder top with nude palazzo pants and nude sandals.
One Shoulder Tops
One-shoulder tops are great for creating fashionable outfits. These tops have been in fashion for several decades.

Unlike off-the-shoulder tops, a one-shoulder top allows you to show off one side of your shoulder and collarbone while covering the other.

This look is elegant, sophisticated, and very stylish.

It is very suitable for an evening look, for example, for a dinner date or a social event.

The great thing about this look is that the side of the top that is not exposed can be short, medium or long-sleeved.
Monochrome Style: Matching Shirt
Pallazo pants are often sold with a matching shirt.
This is a great combination, especially if the fabric is printed. It looks fashionable and chic.
If you fo for plain colors, choose a top in a different fabric. This gives the look an extra twist and breaks the color wall and makes the outfit interesting.

The great thing about this look is that all you have to worry about is the right pair of shoes.

Combine it with sneakers or with high-heeled shoes.
Pull Overs
In the colder months, you can pair the palazzo pants with a sweater and sneakers.

Tuck the front of the sweater inside and leave the back exposed.
This creates a casual, chic daytime look that's perfect for a brunch date or an afternoon trip to the movies.
Turtle Necks
So we are left with the cooler months in this case as well.

Turtle necks have made a big comeback in recent years after their mid-1990s heyday.

This is good news for anyone who loves wearing palazzo pants. These two pieces look great together and are easy to wear.
If you choose a fitted turtle neck sweater, tuck it in the palazzo trouser and it will create a beautiful silhouette.

In the fall and winter months, layered looks are very popular and the turtleneck is the perfect garment to create this look.
Utility Shirts
Utility shirts, unlike other shirts, usually have a more masculine appearance.
However, when combined with palazzo trousers, the result is a contrast between masculine and feminine.

This look can be enhanced by combining it with a certain shoe and other accessories.

Flat shoes look more summery, while heels enhance the look and give it more sophistication and glamour.
Halterneck Tops
Halter necks, much like turtle necks, have been experiencing a resurgence since the mid-1990s. The most important thing when wearing a halter top is that you also wear the right undergarments.

This type of top is flattering and also allows you to show off your shoulders.

Halter tops do look good during the day, but there is something about how stylish these tops look when you put them on for an evening look.
Sleeveless Tops
Sleeveless tops are great for creating balance in contrast to wide-legged pants.
Sleeveless tops come in a variety of cuts and fabrics, which means that these tops can create either a casual or more formal look.

Just tuck the top into your pants and add a belt for a sleek and polished appearance.

To elongate the legs, opt for high-waisted palazzo pants.
A White T-shirt
As mentioned earlier, the palazzo pant is extremely versatile in style. It can be paired with a plain white t-shirt for a casual look.

Also, a white t-shirt is an essential piece of clothing that goes with almost any outfit.

This outfit can be worn with sneakers for a casual look. However, you can also spice it up by changing it from sneakers to stiletto sandals.
Frequently Asked Questions About Plazzo Trousers
Do palazzo pants look good with fuller-figured ladies?
There is a myth that palazzo pants look best on slimmer women. This is not true. Pallazo pants look great on any size and shape woman. High-waisted palazzo pants paired with wedge heels will make shorter ladies look longer and elongate the legs.
Should short people wear palazzo?
Yes, both tall and short look good in palazzo pants. As mentioned before, opt for high-waist pants and heels for a more elongated look.
Conclusion
Palazzo pants are extremely versatile and can be worn by almost any shape and size woman.
These pants can be worn with sneakers, flats, or heels and wedges.
There is a myriad of styles and color tops that pair very well with this style of pants.